Step Five
Admitted to God, to ourselves and to another human being the exact nature of our wrongs.
They say that confession is good for the soul, and so often we have heard people breathe a sigh of relief when unloading a huge burden.
We have to get something off our chest, and it feels so good to rid ourselves of the stone hanging around our necks, one that we've been carrying for a long time. Evangelical Christianity has long embraced the idea of confessing one to another, and having an accountability partner is an important element in one's involvement with the church. This step is entirely practical and best utilized on an ongoing basis.
We "admitted to God," is the first piece and like our discussion of Step 4, we understand that God is all knowing, so anything that needs to be shared is already fully known to God. There's really no sense in hiding something that is always out in the open to God, so just presenting Him with the facts is much more practical than doing the hide and seek dance.
The writer of Psalm 32 describes his tension with God the following way in verses 3-5:
"When I kept silent, my bones wasted away through my groaning all day long. For day and night your hand was heavy upon me; my strength was sapped as in the heat of summer. Selah. Then I acknowledged my sin to you and did not cover up my iniquity. I said, "I will confess my transgressions to the LORD" — and you forgave the guilt of my sin."
Call it a guilty conscience, call it a sense of wrongdoing, or call it the need to unload a burden. God already knows. We have an inner sense that there is a God and that He knows. That's a pretty tough load to carry.
Re-Learning Trust
But telling somebody else is the next difficult hurdle, which brings us to the second component of the step. We're not asking you to pick out somebody at random and unload, but what this step implies is having someone you trust and respect listen to your wrongs. This person isn't going to broadcast the news over the television to all of your friends, nor are they going to turn away from you in disgust. They are, in effect, a witness to your developing relationship with God.
Have you ever had a friend who you could tell anything to and know that he/she would not step on you? Maybe that's a best friend, or maybe it's just somebody you feel safe with based on your understanding of their nature and character. Tell that person what you told God, unexpurgated and verbatim.
"As iron sharpens iron, so one man sharpens another," is a description of this process in Proverbs 26:17.
The process of coming clean with your life, so that there are no hidden facts, no dust swept under the carpet gives us a new freedom. A couple of things happen as we walk closer to God and take to heart the purpose and benefit of this step—we get stronger.
"Submit yourselves, then, to God. Resist the devil, and he will flee from you. Come near to God and he will come near to you. Wash your hands, you sinners, and purify your hearts, you double-minded" (James 4:7-9).
The force that drives your addiction, the enemy of your very being will flee from you. It's a rather profound promise.
"Therefore confess your sins to each other and pray for each other so that you may be healed. The prayer of a righteous man is powerful and effective" (James 5:16).
The Apostle John offers comfort in this vein, "If we claim to be without sin, we deceive ourselves and the truth is not in us. If we confess our sins, he is faithful and just and will forgive us our sins and purify us from all unrighteousness" 1 John 1:8-9.
Successful Conclusion
Step 5 comes to a close when we have executed these tasks; confessing to God, to ourselves and to another person. But more importantly, when we get our hands around the value of being transparent, or as many people like to say, "What you see is what you get." We have cleared ourselves with God, not fooled ourselves into any false sense of innocence and have established a relationship with another person to help us through the tough times, past, present and future.
Then you're ready for Step 6.

Once you've completed Step 5 go can go to Step 6.


---
and Finally Remember:

"Ask and it will be given to you; seek and you will find; knock and the door will be opened to you. For everyone who asks receives; he who seeks finds; and to him who knocks, the door will be opened."
- Matthew 7:7-8
---
Aug 21, 17 07:05 PM

I'm a 39 year-old, and have two beautiful daughters, ages 11 and 16. I've been using daily, since the age of 12 years old. I've used meth, cocaine, ecstasy,

Aug 21, 17 08:55 AM

I will be brief. I am 51 years old and for the past 10yrs. have been on a downward spiral that started with OxyContin and roxycontin and has gradually

Aug 19, 17 11:37 AM

It's one thing to tell somebody something they need to know, but it's quite another story for them to hear you. Sure, they listen, and they may even listen
---
Follow on Twitter or Google+
Search this Site:
---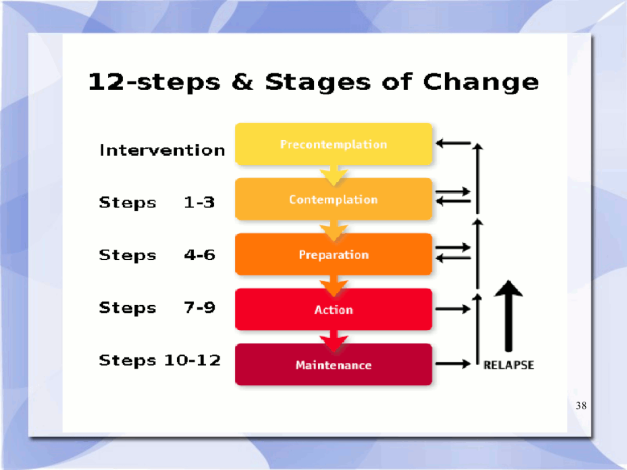 -  We're also launching four new classes which will help you learn how to use motivation, affirmation and encouragement to end addiction in yourself or a loved one. Each class will focus on an evidence-based concept, explaining how to illicit positive change in yourself or in someone you love.
Ending addiction is all about learning to change, and these classes will teach you how to do that right now. We will show you practical techniques that research has shown to be effective for achieving change and successfully ending addiction. We'll begin offering these classes this September through Learn-It-Live (Learn-It-Live is easy to use teaching tool and you don't need to download anything to use it). Click Register Now! below to join one of our classes.

---
Four new addiction classes:

| | | |
| --- | --- | --- |
| - Addiction 101, a FREE 60 minute course introducing key recovery concepts, starting September 12. | | |
| - Why Motivation?, understanding motivation with encouragement to change. Learn how to encourage motivation and facilitate positive change. This 4-week, 60 minute class begins Wednesday, October 3, with a cost of $29. | | |
| - Change Talk, a building-block for addiction recovery. This course teaches us to recognize and encourage Change Talk, which research has proven to lead to positive change. This 4-week, 60 minute class begins, Wednesday, November 1 with a cost of $29. | | |
| - Effective Conversations, learning to connect for recovery. This course teaches us how to have productive, change-focused conversations, which research has shown, facilitate positive change and addiction recovery. This 4-week, 60 minute class begins Wednesday, December 6 with a cost of $29. | | |