Step Ten
Continued to take personal inventory and when we were wrong; we promptly admitted it.
When we are in our addictive state, under the control and influence of the drug, we have little or no room for personal inventory.
The best way to avoid reverting back to that state of being is to continue to take that personal inventory and continue to try to look at ourselves objectively. Just because we have taken the initiative once does not mean we are free from the need to take a look in the mirror.
There is an illustrative passage in the New Testament that lends itself nicely to our discussion about continuing to take our personal inventory. James 1:23-25 states:
"Anyone who listens to the word but does not do what it says is like a man who looks at his face in a mirror and, after looking at himself, goes away and immediately forgets what he looks like. But the man who looks intently into the perfect law that gives freedom, and continues to do this, not forgetting what he has heard, but doing it — he will be blessed in what he does."
James understands that apart from his power greater than himself, namely God, he is helpless in the face of addiction. However, by staying close, by listening and heeding, he is free to walk with confidence and strength.
Must Continue to Deal with Faults
There are people who believe that once they have been forgiven for something, there is no need to revisit that chapter in their life. We are human and we make mistakes, even honest mistakes. God is our faithful partner in this process and we by this time have come to understand that God isn't going to abandon us in our journey. The question is posed in Psalm 19:12:
"Who can discern his errors? Forgive my hidden faults."
The idea that we may have faults hidden from our consciousness is a little intimidating, but when we allow God to gently show those to us, and we make a personal inventory, we can do the maintenance.
"Search me, O God, and know my heart; test me and know my anxious thoughts. See if there is any offensive way in me, and lead me in the way everlasting" (Psalms 139:23-24).
On a Better Path
Once you have come to the point of make your list, making amends, you are already well on your way to putting your life back together and even more importantly living the way you want to live. Your partner in the process has not turned you out or allowed you to fall back into addiction. The path we were on that was leading to destruction has been straightened. The prophet Ezekiel wrote:
"And if I say to the wicked man, 'You will surely die,' but he then turns away from his sin and does what is just and right— if he gives back what he took in pledge for a loan, returns what he has stolen, follows the decrees that give life, and does no evil, he will surely live; he will not die. None of the sins he has committed will be remembered against him. He has done what is just and right; he will surely live" (v. 33:14-16).
God's Grace Gives You Strength
Your ability to hold on, your competence, comes from God. The Apostle Paul wrote in Romans 12:3:
"For by the grace given me I say to every one of you: Do not think of yourself more highly than you ought, but rather think of yourself with sober judgment, in accordance with the measure of faith God has given you."
Paul has an amazing ability to get to the heart of the matter, as he does in Ephesians 4:21-24. See if these words don't resonate with you and the process you're going through now.
"You were taught, with regard to your former way of life, to put off your old self, which is being corrupted by its deceitful desires; to be made new in the attitude of your minds; and to put on the new self, created to be like God in true righteousness and holiness."
Step 10 is the beginning of a new life ENJOY IT! You have already gone through nine steps towards becoming addiction free. You've made your personal record, made amends and you're moving on. You're not remaking everything, just making sure there isn't a crack in the foundation. Once you're comfortable that you've accomplished Step 10 you're ready for Step 11.
For more about Step 10 link to Books


---
and Finally Remember:

"Ask and it will be given to you; seek and you will find; knock and the door will be opened to you. For everyone who asks receives; he who seeks finds; and to him who knocks, the door will be opened."
- Matthew 7:7-8
---
Aug 19, 17 11:37 AM

It's one thing to tell somebody something they need to know, but it's quite another story for them to hear you. Sure, they listen, and they may even listen

Aug 19, 17 10:55 AM

Our Help Line holds a free weekly addiction support group Monday Night at 6:00 pm eastern time, where you'll learn how to help yourself or your loved one to end their addiction.

Aug 19, 17 09:01 AM

Heroin Drug Addiction discusses the history, causes and dangers. Know the warning signs and understand the consequences.
---
Follow on Twitter or Google+
Search this Site:
---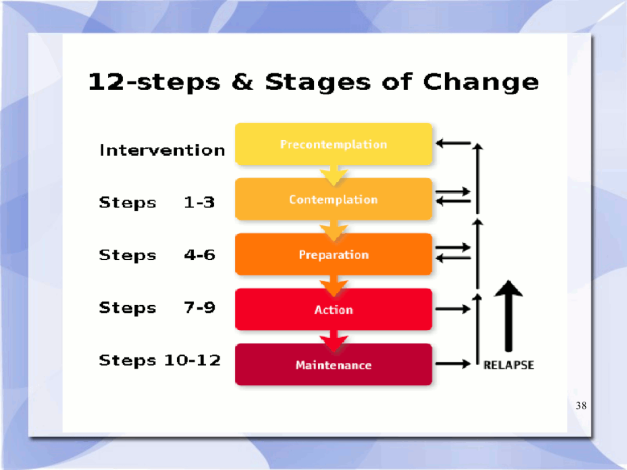 -  We're also launching four new classes which will help you learn how to use motivation, affirmation and encouragement to end addiction in yourself or a loved one. Each class will focus on an evidence-based concept, explaining how to illicit positive change in yourself or in someone you love.
Ending addiction is all about learning to change, and these classes will teach you how to do that right now. We will show you practical techniques that research has shown to be effective for achieving change and successfully ending addiction. We'll begin offering these classes this September through Learn-It-Live (Learn-It-Live is easy to use teaching tool and you don't need to download anything to use it). Click Register Now! below to join one of our classes.

---
Four new addiction classes:

| | | |
| --- | --- | --- |
| - Addiction 101, a FREE 60 minute course introducing key recovery concepts, starting September 12. | | |
| - Why Motivation?, understanding motivation with encouragement to change. Learn how to encourage motivation and facilitate positive change. This 4-week, 60 minute class begins Wednesday, October 3, with a cost of $29. | | |
| - Change Talk, a building-block for addiction recovery. This course teaches us to recognize and encourage Change Talk, which research has proven to lead to positive change. This 4-week, 60 minute class begins, Wednesday, November 1 with a cost of $29. | | |
| - Effective Conversations, learning to connect for recovery. This course teaches us how to have productive, change-focused conversations, which research has shown, facilitate positive change and addiction recovery. This 4-week, 60 minute class begins Wednesday, December 6 with a cost of $29. | | |