Teenage Drug Abuse
Teenage Drug Abuse
Drugs and Teens: What can parents do?
It's every parent's nightmare facing teen drug addiction. As children enter their teenage years they begin to separate from their parents, explore the adult world and fashion an image of their place in it. Even the most conscientious parents may not be able to protect their teens from the predatory lure of drugs, readily available in or around all schools.
Borrowing a sports analogy, the best defense against teenage drug use is a good offense. Parents need to equip themselves with solid information about teen drug addiction , a realistic view of their child and access to professional help if there are any early warning signs of drug use/abuse.
Teenage Drug Abuse
Communication is Essential
Communicating with teens can be a challenge, especially because they are beginning to spread their wings and desire independence from mom and dad. Stay calm.
The most common mistake parents can make is trying to force ideas and values on the defiant teenage mind.
I was that way. There's a leadership responsibility that always needs to be in evidence, and parents need to be parents. Trying to be "best buddies" is not a good strategy. However, parents need to meet their children where they are at. That means trying to understand the situation from your child's perspective.
Teenagers will probably come up with some very wrong reasoning, seriously flawed ideas and their whole world view will likely be counter to that of their parents. But they have a NEED to be heard and respected.
It's one thing to accept an opinion counter to your own, and it's quite another to approve of it. Try working with your child's ideas and concepts, and have an open and non-threatening discussion about them. You can establish rules of engagement with your teen and agree that both of you are allowed to express ideas and opinions without fear of retribution.
The key is to remember that the parent needs to be the one in control. As a chaplain, I do a lot of counseling work and my approach is entirely patient-centered. They establish the themes of the conversation, but even though I am not deciding the topic, or necessarily directing the conversation, I am still in control.
Remember that your teenager, like a patient in a hospital, is probably going to be very myopic. He/she will see things only from their perspective.
Take a step back and see the entire situation. Go with their feelings, their concerns and walk down their path. Share the experience.
Teenage Drug Abuse
Double Whammy: Teenage Brain and the Teenage brain on Drugs
I think I'm like most people who used to believe that the brain matured at the end of childhood. Wow, how could I have been that wrong? Do parents know this? Probably not. The brain actually doesn't mature until a person reaches 24 years of age.
The reason why this is important is that it should send a shocking warning signal to parents of teenage drug abuse and that their teenaged son or daughter is at high risk for trouble if they take drugs.
The idea of a developing brain on drugs is just, well, scary. The brain develops in sections. Picture this as being development from back to front. First to develop is the motor coordination and sensory processing in the cerebellum, in the back of the brain. Next, the nucleus accumbens, regulating motivation, kicks in. The amygdale, controlling emotions develops next. Finally the prefrontal cortex, regulating judgment is finished. Teenage drug abuse and hurt this development.
That is exactly why physical development does not correspond with mental and emotional development. Take as look at high school athletes. We see a man-child out on the field, who has the ability to score touchdowns, dunk a basketball or throw a baseball 90 miles per hour, but he is still a child. Teenage girls, who may have begun developing sexually as early as the fourth grade, are still children.
As the brain develops, we move into adulthood. If the brain is not allowed to fully develop, or that development is slowed because of teenage drug abuse, you can see that the child is in serious jeopardy of having problems.
I mentioned the physical development. Even that is not complete during the early teen years. I umpire baseball, and I can tell you that one of my pet peeves is adults teaching kids how to throw a curve ball before they are in high school. To be truthful, I don't like the curve ball even in freshman and junior varsity games. The elbow is still developing, so the curve, which places a great deal of pressure on the elbow, is a very bad idea.
"Oh, but my Johnny is level headed." Don't count on it. Remember, the front part of the brain, which regulates judgment, is the last to develop. Bad planning and bad judgment are hallmarks of teenage existence. Teenagers like activities with high excitement and low effort. They can't necessarily control their emotions, so the hot emotions come out quicker than the cooler ones. They are interested in experimenting and teens are known for thinking that smoking, drinking or taking drugs is "mature." Children graduate from high school, then go off to college in the fall and all too often indulge in binge drinking and experiment with drugs.
Parents can't raise their kids in a bubble, but they need to know what's out there and how teenage drug abuse can impact their child's life. If a child is not fully capable of making a good decision, parents can help them form a good plan by openly discussing drug use with them. Let this discussion be a discussion, not a lecture.
Be aware of what your kids are doing. The last thing you need is to be shocked someday to discover that "Little Johnny" is smoking pot, or the life of the beer party, or the "go to" guy for good drugs or a experimenting with teenage drug abuse. Your son may shave, but that doesn't make him a man. Your daughter may be 17, going on 25, but that doesn't make her an adult. They are still children.
For more about teenage drug abuse link to Intervention


---
and Finally Remember:

"Ask and it will be given to you; seek and you will find; knock and the door will be opened to you. For everyone who asks receives; he who seeks finds; and to him who knocks, the door will be opened."
- Matthew 7:7-8
---
Aug 18, 17 09:17 AM

Our Help Line holds a free weekly addiction support group Monday Night at 6:00 pm eastern time, where you'll learn how to help yourself or your loved one to end their addiction.

Aug 18, 17 09:04 AM

Drug Addiction Stories are true-to-life chronicles of addiction and recovery, written by people who have gone through the experience.

Aug 17, 17 08:38 AM

Addiction 101 is a course we offer that explains basic information about drug addiction and recovery for those trying to understand it and combat it.
---
Follow on Twitter or Google+
Search this Site: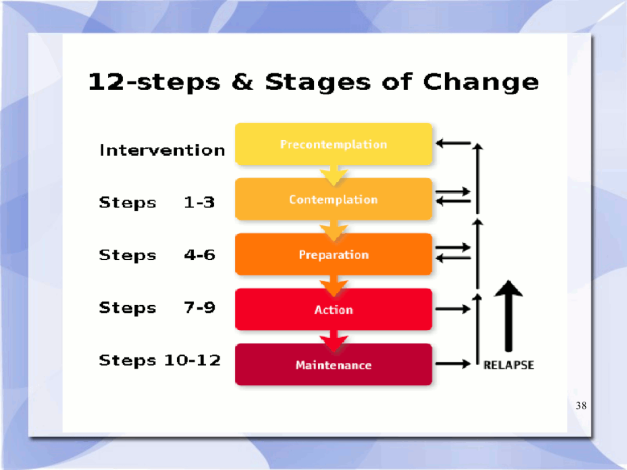 -  We're also launching four new classes which will help you learn how to use motivation, affirmation and encouragement to end addiction in yourself or a loved one. Each class will focus on an evidence-based concept, explaining how to illicit positive change in yourself or in someone you love. Ending addiction is all about learning to change, and these classes will teach you how to do that right now. We will show you practical techniques that research has shown to be effective for achieving change and successfully ending addiction. We'll begin offering these classes this September through Learn-It-Live (Learn-It-Live is easy to use teaching tool and you don't need to download anything to use it). Click Register Now! below to join one of our classes.

---
Four new addiction classes:

| | |
| --- | --- |
| - Addiction 101, a FREE 30 minute course introducing key recovery concepts, starting September 12. | |
| - Why Motivation?, understanding motivation with encouragement to change. Learn how to encourage motivation and facilitate positive change. This 4-week, 60 minute class begins Wednesday, October 3, with a cost of $29. | |
| - Change Talk, a building-block for addiction recovery. This course teaches us to recognize and encourage Change Talk, which research has proven to lead to positive change. This 4-week, 60 minute class begins, Wednesday, November 1 with a cost of $29. | |
| - Effective Conversations, learning to connect for recovery. This course teaches us how to have productive, change-focused conversations, which research has shown, facilitate positive change and addiction recovery. This 4-week , 60 minute class begins Wednesday, December 6 with a cost of $29. | |