Addiction Facts
Addiction Facts
Addiction Is Like Drowning
Addiction Facts: The expressions on their faces reflect their experience of helplessness and fear, when people recall what it is like to come close to drowning.
It's difficult at best to try to imagine what near drowning is like for those of us who have not gone through that experience, but the frightening tales that are shared in our group discussion on spirituality and 12-Step bring a chilling illustration to our understanding of the first three steps.
Addiction Facts:
STEP ONE: We admitted that we were powerless over our addiction--that our lives had become unmanageable.
"Brian" was out fishing on a small lake when his boat capsized. His first reaction was to save his tackle box and swim to shore. He couldn't. Soon he let go of the tackle box and clung to the boat. He said he was a strong swimmer, but for some reason this time he just couldn't. He was out on the lake, clinging to the boat before a motorist stopped and spotted him. "Do you need help?" the motorist asked. "Yes" was the quick response. His situation was life-threatening and he knew he had no control over it.
Addiction Facts:
STEP TWO: Came to believe that a Power great than our own could restore us to sanity.
Brian shared with us that he didn't want help initially; because he figured he could go it alone. It was no big deal. But as he tried and failed, he realized that somebody else was going to have to get him out of the water. "I didn't think I needed any help. I was wrong," he said. "I was out there for six hours. I prayed for help."
Addiction Facts:
STEP THREE: We made a decision to turn our will and our lives over to the care of God, as we understood Him.
The motorist called 911, but the response time was very slow and another hour went by. Finally the rescue team from the local volunteer fire department arrived and used a small boat to get to Brian. The water level was low and there was at least 100 yards of muck and mud to push through just to get to water. It took the team a while to get out on the lake. Tired and worn out, even if Brian might have been able to get to the mud, he would not have had the strength to get through it. "I was so glad to see them," he said. "They got me in the boat and it was very hard for them just to get me to land. If they wouldn't have come, I would have died out there. It was cold, the water was cold, but I don't even remember feeling it. I don't know if God sent those people or not, but I was just glad they got me out of there."
Brian's story brought a clear and frighteningly practical illustration to the first three steps. There have been hundreds of stories shared, but the commonality of all of them is the helplessness the person experiences, and always there is somebody who intervenes and pulls them out of the water. In Brian's case it took him a while to understand that he was in trouble, but once he did, he was grateful for getting the assistance he needed. He could do nothing for himself, so he allowed the rescue team to do the work.
The important thing to remember about Brian is that he fought the idea of needing help, almost to the point of drowning. We want to help ourselves out of addiction, but we need others. That power greater than ourselves, is the power that gets us off the lake. We are in trouble, we need help and we need to allow the help to intervene. Brian also shared that after sharing his story and applying the 12-Step to his personal situation, he began to understand the meaning of those first three steps for the first time in years.
Addiction is like drowning!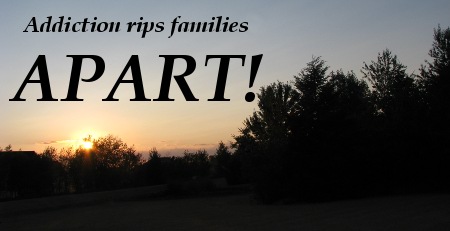 Addiction Facts: RN Addicted to Prescription Drugs
My mom has a long line of addictive personalities in her family. She is the youngest of six siblings and grew up in a household where drugs were embraced rather than avoided.

When I was eight years old she began her education as a Nurse, and I noticed for the first time her intense level of anxiety and the ways that she went about making herself feel better. Somewhat fortunately, at that point she had only developed a fairly severe stress eating pattern. She also was introduced to anxiety medication that kept her going through nursing school.
When she became a Registered Nurse, the stress elevated rather than leveling out.

If there are any RN's reading this, then they absolutely know that nursing is a difficult and trying career. I began noticing her complain about almost everything, mostly involving different pains she was having in her feet and back, supposedly brought on by the physical nature of her job. At one point a doctor acknowledged a problem with her feet, and she began drug seeking for different painkillers.

Since then, I have gone off to college out of town and I have discovered every time I go home a severe change in her attitude.
After three or four surgeries in the span of a couple years, she is now crushing her drugs for better ingestion and sometimes pours them in alcohol.

She takes muscle relaxants, my brothers ADHD medicine, sleeping pills, and a huge variety of painkillers. She goes to many different doctors asking for prescriptions for various things and always comes back confused as to why the doctors say she is drug seeking.

When she was in the hospital for her various surgeries she continuously asked for more painkillers and didn't want to leave the hospital when she was told to go home, she explained to them that she knew she wasn't yet healed enough to leave.


Since she is a nurse, it is easy for her to get prescriptions from doctors she knows, and not many people question her because she is good at her job and if you don't agree with her she will come at you with a nasty, confrontational personality.

It is a bit terrifying that she has gotten so aggressive and defensive about her drugs and alcohol, and I'm not entirely sure how to approach her without being cut-off from the family. All I can do is hope for a better future.
Playing With Fire
by: Ned Wicker

Your mother disease path seems to be worsening by the day, so it must be very difficult for you to watch this unfold.

I would recommend a call to Al-Anon for starters, mainly because you need to be equipped to render the best possible help for your mother. They will understand and their organization is made for people just like you.

Getting her into treatment, which is what she needs instead of another surgery, is going to be tough if all the family members are drug users.

You need somebody with you, as going it alone will not be fruitful. But if you can get some family members pulling in the same direction, you may have leverage to get her some help.

She doesn't want treatment and she gets angry at the mere mention of her drug use. This is typical. Try to get the family in with you and see if they understand your mom's problem. Your mother has been lucky.

So far there have been no consequences for her drug abuse. However, it could get very ugly in a hurry, so make the call and try to organize your family.
and Finally Remember:

"Ask and it will be given to you; seek and you will find; knock and the door will be opened to you. For everyone who asks receives; he who seeks finds; and to him who knocks, the door will be opened."
- Matthew 7:7-8
Sep 27, 19 09:34 AM

Life's challenges are hard, no matter who you are or what you're facing. Whether it's everyday struggles you're working to overcome like setting up and

Sep 16, 19 10:01 AM

There are millions of Americans suffering from some form of mental illness. Yet, the number of people that actually get help for their condition pales
Follow us on Twitter #AddictionSuport