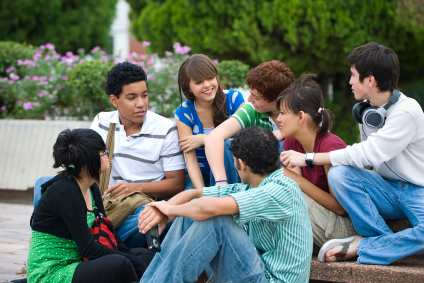 By Ned WickerIt's one of the most common explanations for why kids get involved with alcohol and drug use. Parents use it to deflect responsibility. Coaches use it to protect the eligibility of their star athlete. Grandparents use it to make sure any other reason is not considered.What is the explanation? "They got in with the wrong crowd." When I was growing up my mother would use one of the kids in my neighborhood as the classic guilt example. "Don't be like (so and so)," she'd say. Or if she was really angry with me, she'd call me by his name, bringing more shame and humiliation to my already indefensible position. The "bad kid" was a product of a broken home, had no parental oversight of any kind, repeatedly was held back in school and finally thrown aside like yesterday's garbage. Looking back 50 years, I am heartbroken for him. He was the "bad kid" and I was seen as one of the "good kids," but only because I didn't get caught.Here's a question for you. Who are the drinkers in the high school? According to recent statistics, some 80% of high school students admit to having taken a drink, even though the legal drinking age is 21. Does that mean 80% of the kids are the "bad kids" and only 20% are the "good kids?" If you walked into a room full of high school students, could you pick them out? Can you identify the wrong crowd? Who smokes grass? If your child got in with the wrong crowd, surely you can identify them. What does the "bad kid" look like? They must have a uniform of some kind, like a certain style of clothing, or spiked hair, or black leather and chains. It's not simple, because you can't tell who is drinking and who isn't. Of course, if a child has developed alcoholism, maybe then you've got some more obvious clues, but in general, who's to say? Adult attitudes play a major role in distinguishing the good from the bad. If the ball team has a drinking party the coach can deny anything ever happened to make sure that none of the players are found guilty of violating the athletic code. After all you can't punish them because they just made a bad choice, and you may have to forfeit the game. They are the good kids, so we must have a separate standard for their behavior. You can save your wrath for the child who is a little out of step, or the one who doesn't have any friends.What if we were to group all of them together and look at them as potential victims? Maybe they just want to be a part of the crowd and join in the drinking without any particular reasoning other than that. Maybe they want to feel better and alcohol helps to numb the pain. Maybe they have been neglected and turn to alcohol in rebellion to their parents. Maybe they do it because their parents do it.It's too easy to blame the "crowd," or sweep the dirt under the rug by making excuses. It's worse when the "good kids" never face the consequences of a bad action. If your child got in with the "wrong crowd" it is ultimately your fault if you haven't talked with your kid about alcohol, if you haven't paid attention and been a part of their life, if you've assumed that this kind of thing could never happen in your family. Even the best of kids can make a stupid decision and even the worst of them can be redeemed. It's not about excuses, it's about facing the reality that all kids are potentially going to fall into the "bad kid" category because they drank. We all have a stake in their future and a responsibility to help them understand the realities of drinking.
This blog is written by author Vivian Eisenecher whose book Recovering Me, Discovering Joy addresses both her and her husband's respective struggles as they climbed from the trenches of despair to discover new and ever-unfolding joy. Her progress in the physical, mental, emotional and spiritual areas of her life has led her to better understand the recovery process, its limitlessness and life in general.Blog Reprinted from recoveringme.comChristian RecoveryI just read an Ezine Article entitled: Christian Drug Rehab Treatment written 
by Ned Wicker, Addictions Recovery Chaplain. I agree with Ned. We can't always be politically correct and stand up for our beliefs at the same time. In his article, Ned gives a Bible verse that connects with each of the 12 steps. I'd like to add to that. I have copied (from http://grrr.net (Chris Grill)) below a number of bible verses that substantiates each of step. I hope you enjoy them:
Step 1
For I know that in me (that is, in my flesh,) dwelleth no good thing: for to will is present with me; but to perform that which is good I find not. For the good that I would I do not: but the evil which I would not, that I do. Now if I do that I would not, it is no more I that do it, but sin that dwelleth in me. Romans 7:18-20
Ephesians 2:1-2
Mark 4:35-41
Psalm 72:12-13
Matthew 9:36
2 Peter 2:19
Psalm 5:1
Psalm 6:2-4
Psalm 6:6-7
Psalm 10:14
Psalm 12:5
Psalm 13:1
Psalm 16:4a
Psalm 18:6
Psalm 18:27
Psalm 22:1-2
Psalm 22:11-13
Psalm 25:16-18
Psalm 28:1-2
Psalm 30:10
Psalm 31:9-10
Psalm 31:22
Psalm 34:18
Psalm 38:1-9
Psalm 39:4-5
Psalm 40:17
Psalm 42:6-8
Psalm 44:15-16
Psalm 55:4-8
Psalm 69:1-3
Psalm 69:20
Psalm 69:33
Psalm 72:12-13
Psalm 88:1-4
Psalm 102:1-7
Proverbs 14:12
Proverbs 18:14
Proverbs 26:12
Proverbs 28:6Step 2
Jesus said unto him, If thou canst believe, all things [are] possible to him that believeth. And straightway the father of the child cried out, and said with tears, Lord, I believe; help thou mine unbelief. Mark 9:23-24
2 Corinthians 1:8-11
Galatians 1:4
Matthew 9:12-13
Matthew 20:29-34
Mark 5:35-36
Luke 1:37
Luke 9:56
Luke 11:5-13
Luke 13:10-13
Luke 18:35-43
John 3:14-18
John 6:28-29
John 6:63
John 6:68-69
John 7:37-39
John 8:12
John 10:9-10
John 11:25-26
John 12:46
John 14:6
Acts 3:16
Acts 4:12
Acts 16:31
Romans 8:38-39
1 Corinthians 1:18-25
1 Corinthians 15:20-22
2 Corinthians 5:21
Ephesians 2:4-5
Philippians 2:13
Colossians 2:12-14
Hebrews 2:14-18
Hebrews 7:24-25
James 1:17-18
1 John 4:10
Psalm 18:1-3
Psalm 18:16-19
Psalm 20:7-8
Psalm 27:13-14
Psalm 33:18-22
Psalm 46:1-3
Psalm 71:1-3
Psalm 107:27-31
Psalm 107:41-43
Psalm 109:21-27
Psalm 119:123-125
Psalm 119:162-166
Psalm 121
Psalm 130
Psalm 139:1-6
Psalm 142
Psalm 149:14
Proverbs 1:7
Proverbs 2:2-12
Proverbs 15:16Step 3
The LORD [is] my shepherd; I shall not want. He leadeth me beside the still waters. He restoreth my soul: he leadeth me in the paths of righteousness for his name's sake. Yea, though I walk through the valley of the shadow of death, I will fear no evil: for thou [art] with me; thy rod and thy staff they comfort me. Thou preparest a table before me in the presence of mine enemies: thou anointest my head with oil; my cup runneth over. Surely goodness and mercy shall follow me all the days of my life: and I will dwell in the house of the LORD for ever. Psalm 23 (KJV)
Matthew 6:31-34
Hebrews 4:1-2
1 Peter 1:3-5
Matthew 10:37-39
Matthew 11:28-30
Matthew 16:21-26
Luke 9:57-62
Luke 11:2-4
Luke 24:46-47
John 1:12-13
John 5:24
John 6:35-40
John 8:1-11
John 12:26
John 17:3
Acts 2:21
Romans 3:21-24
Romans 4:20-25
Romans 5:1
Romans 5:8-11
Romans 8:1
Romans 10:9-13
2 Corinthians 1:3-5
Ephesians 1:3-14
Ephesians 2:8-9
Hebrews 4:1-2
1 Peter 1:3-5
1 Peter 2:24-25
Psalm 3:5-6
Psalm 4:8
Psalm 9:9-10
Psalm 17:6-8
Psalm 28:6-9
Psalm 31:19-20
Psalm 56:3-4
Psalm 61:1-4
Psalm 62:5-7
Psalm 68:19-20
Psalm 86:11-13
Psalm 91:1-4
Psalm 94:17-19
Psalm 116
Psalm 143:8
Psalm 147:11
Proverbs 3:5-6
Proverbs 14:26-27 Please check out Vivian's blog for the remainder of the steps at recoveringme.com/in/2009/01/christian-recovery/
For more about Teenagers Addiction visit our home page
Teenagers Addiction Teenagers Addiction Teenagers Addiction Teenagers Addiction Teenagers Addiction Teenagers AddictionTeenagers Addiction Teenagers Addiction Teenagers Addiction Teenagers Addiction Teenagers Addiction Teenagers Addiction SYMPTOMS…
Read these five pages and learn what you need to know to spot Addiction to Drugs in: Yourself… Your Family… Your Friends… Your Community…The rest of the pages are there for your reference to explain important topics in more detail.
Finally don't miss the Spiritual and 12-step sections to fully explore how understanding THE SPIRIT can lead to recovery!
Bookmark & Share