Drunk Driving

Drunk Driving
Every holiday weekend they start. The television public service announcements alert us that the State Police and local municipalities will have officers on the roads to watch for people driving drunk. They know the hunting will be good, it always is. Governmental authorities show us the statistics, warn us of the potentially fatal consequences of our actions, but still we persist. Driving drunk is common and a dreadful social issue in the United States.
"Friends don't let friends drive drunk."
"Friends don't let friends drive drunk." You've heard that before, but depending on the part of the country you are from, it is either a silly, cliché statement or a serious cry for action. Maybe you don't think it's a matter worth discussion, but before you push it aside understand that nearly 50% of the auto fatalities in the United States have a drug or alcohol component. Another million and a half people are arrested and charged with being under the influence of drugs or alcohol.
How common is driving drunk?
Give or take depending on the state, about 15% of men will drive under the influence every year. Women are a little more cautious, as only 8% or so will do the same. Think about it—you're driving home after work and you begin to count the cars. For every 100 cars on the road, there are 15 driving drunk offenders. Of the drunk driving offenders that are caught and cited, about one in three of them is a repeat offender.
Driving drunk is a problem because alcohol is so much a part of the American culture. There are many ethnic jokes about alcohol use, but put them together and you have a view of America. You cannot watch a sporting event on television without beer commercials, and it is almost as if drinking was mandatory if you want to be cool, enjoy your friends and have fun at the game. If you drink the right vodka or same the right wine, you're cultured and sophisticated. We almost equate drinking alcohol with some kind of social prerequisite.
Young Adults Involved in Fatalities
Most of the driving drunk fatalities involve young adults. According to the National Highway Traffic Safety Administration, drivers 21-24 made up the largest group of fatalities, 34%. Drivers 25-34 followed at 30% and drivers 35-44 recorded 25% of the deaths.
People get into trouble easily. The average person can metabolize an ounce of alcohol in about an hour. That's one drink—one scotch and water, one beer. The standard for determining drunk driving is a blood alcohol level of .08, so if a person stops off at his/her favorite pub for a few drinks after work, for every drink they'll have to wait at least an hour. To put this into perspective, if a person goes to the bar and stays three or four hours with friends, drinking steadily, not only will they be unfit to drive home, but they probably will still be legally drunk when they wake up the next morning. Black coffee isn't going to sober up a drunk. Cold showers, a brisk winter wind are likewise useless. Only time helps.
Alcohol is alcohol
Another popular myth is that driving drunk is determined by what the person drinks. Not so. Alcohol is alcohol. Therefore, the amount of alcohol consumed over a given amount of time will determine the condition of the person. Men like to brag about not getting drunk on beer, or about how they can hold their liquor. The blood alcohol level, however, says otherwise.
The unintended consequences of drunk driving are the fatalities. Parents have a few drinks, then pick up their kids at school, or they have too many at a backyard cookout, or too many at the ball game. They think they can still drive safely. It's a very foolish and deadly decision. Of the fatal crashes on a given weekend, a little more than 30% will involve a drunk driver. That's a little less than twice the rate of a weekday.
There have been efforts to curb driving drunk. In addition to the ads on TV, organizations such as Mothers Against Drunk Driving (MADD) have done good work in getting the message across to millions of people. Of course the best way to prevent drunk driving is not to drink. Groups like Alcoholics Anonymous and Al-Anon have strived to help people overcome alcoholism and problem drinking.
People still do it!
However, despite the efforts of so many people to educate the public on the dangers and fatal consequences of driving drunk, the bottom line lies with the individual. People must take responsibility for their own actions and accept the accountability that comes with making bad decisions.
That concludes our section on Drunk Driving, please visit our home page for more information.

---
and Finally Remember:

"Ask and it will be given to you; seek and you will find; knock and the door will be opened to you. For everyone who asks receives; he who seeks finds; and to him who knocks, the door will be opened."
- Matthew 7:7-8
---
Oct 20, 17 09:13 AM

Heroin 12-step recovery decribes the why the12-step program for addiction recovery has helped so many people to get thier lives back.

Oct 20, 17 09:06 AM

On this page prescription drug addiction is described and defined, with the increased use of opiates for pain management prescription addiction is increasing very quickly.

Oct 20, 17 08:33 AM

About Drug Abuse defines drug abuse and describes the differences between abuse and addiction...
---
Follow on Twitter or Google+
Search this Site:
---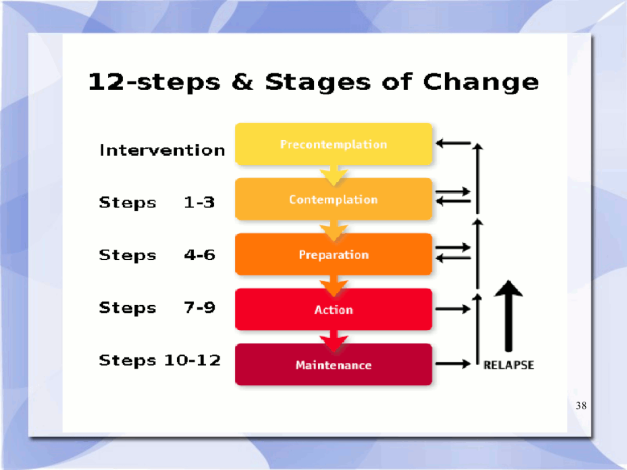 **  We're also launching four new classes which will help you learn how to use motivation, affirmation and encouragement to end addiction in yourself or a loved one. Each class will focus on an evidence-based concept, explaining how to illicit positive change in yourself or in someone you love.
We will teach you practical techniques that research has shown to be effective for achieving change and successfully ending addiction. We'll begin offering these classes this September through Learn-It-Live (Learn-It-Live is easy to use teaching tool and you don't need to download anything to use it). Click Register Now! below to join one of our classes. The registration process includes setting up an account, but you determine your screen name to protect your confidentiality.
---
Four new addiction classes:

| | | | |
| --- | --- | --- | --- |
| | | - Addiction 101, a FREE 60 minute course introducing key substance addiction recovery concepts. This seminar examines many aspects of drug addiction, including symptoms and treatment. It also introduces the Stages-of-Change as a building for recovery.  It will be held on Monday November, 6 at 6:00pm central-time. | |
| | | - Intervention, introduces you to Change-Talk as an alternative to "tough-love". Change-Talk is a method, which you can learn, to get an addict (including yourself) to move away from addiction and toward recovery.  This is a 2-hour class that meets Thursday November 9, at 10:00 am central-time at a cost of $10. | |
| | | - Change-Talk, is a building-block for addiction recovery. This course teaches you to recognize, listen to, and encourage Change-Talk in yourself and others.  Research has shown it helps lead to positive change. This is a 2-hour class on Thursday, October 13 at 10:00 am central-time, for a cost of $10. | |
| | | - Effective Conversations, explains how to use conversation to connect for recovery. Reflective listening and change-focused conversations often facilitate positive change and addiction recovery. This is a 2-hour class that will meet on Thursday, October 19 at 10:00 am central-time, at a cost of $10. | |