Get Help Now!  


  800.815.3910 


  Available 24/7   

The road to recovery starts here! Trusted, confidential help available 24/7. Speak with an addiction treatment specialist anytime. Please call us now at 800-815-3910!

---
My life
My childhood was horrible my dad was an alcoholic and beat my mom every day plus us kids. When I was about 5 years old, he slit her throat in the kitchen. We were all home.
He went to jail, and my mom was stuck raising 4 messed up kids while she was in no condition to even take care of her self. She would have men in and out of her life, she used drugs (meth and crack).
When I was 14, we where placed in foster care a few different times but we would always run away cuz the homes where terrible. She was always in her room getting high, we had no parental supervision. When she wasn't in her room getting high she was beating one of us taking out her frustration out. We never had food cuz all her money went to drugs.
I have used off and on since I was 12 years old I was a year clean when I got pregnant at 16 years old, had my baby, was super happy. Had a wonderful life with my husband, even though we where young we where happy and in love and had best life or so I thought.
After the birth of our second child 5 years after our first I found out he was cheating on me and I started partying a lot drinking and doing coke trying to do anything to make me not care that he was cheating. I didn't work cuz he wouldn't let me so I would steal money for the coke and booze.
Then 5 years later he started selling perks and I started stealing them from him and doing 8-10 a day. We fought a lot cuz of him never being home and cheating all the time so what I didn't steal from him he would give them to me to shut me up and so I'd stop bitching about him cheating.
Then one day, he up and left me through a text message three days after Christmas. After ten years together and two kids he left me with nothing and no where to go. I'm thankful that I had a job at this point and moved in with friends, but I had to send my kids to live with their grandparents as I could not afford to support the three of us. My ex was not able to pay child support cuz he was off work on med leave.
So, losing my best friend/husband and my kids all at once was a huge blow to my life and I started to drink and do coke every day and night the drinking slowed down but the coke use continued. Then I started taking Valium and oxys and xanax.
After a couple months of that I was able to get my own place and have my kids come back and live with me. I'd never been away from them for more then a weekend before that and they had been gone for 3 months. I thought once I had my kids back and my own place and a job things would turn around and get better. Boy was I wrong!
On the days when they went to there dad's I would drink my face off and put what ever I could find up my nose and stared doing Fentanyl pills cuz they where stronger and cheaper then oxys.
I still couldn't cope with or face the fact that I no longer had my perfect little family. I gave my kids back to there grandparents after living with me for 3 months cuz no matter how messed up I am I know that's no place for kids to live.
So I continued my fentanyl use and started sleeping around trying to not be lonely. I ended up meeting my now boyfriend of almost a year he was also in to pills as well.
We got so bad in to pills I lost my job. We tried to quit and he went on the methadone program. I was unable to get on the program as it cost $50 a month and I had no money. He would feel bad for me that I would be sick so he'd ended up buying me pills and doing them as well on the program.
We tired a few times to get clean, which would cause my anxiety to go through the roof and we would end up fighting. One day our landlords called the cops and I got taken to jail and charged with domestic violence and had a no contact order out on us. Well, we got caught together and I went pack to jail. I had to bail out his doc, put him on med leave so he could safely start the program and not interfere with his job. But it takes time for that money to come through and his best friend is the dealer so we would get our pills.
We now owe the dealer $3000, we lost our home, and he now lives with his grandma and I living on my moms couch. I am happy to say we are both clean and both on the program. I have a full time job he is still on med leave but that will soon be over we hope.
We still have a very long way to go to get our life's back and I have a lot of issues I need to work out with a counselor, as I have a very high risk of relapse with all I have been through and all my mental health issues.
But we are definitely going in the right direction and it feels good to have our lives back and to have made it out of this together. We're still happy and in love and hopefully, soon, my baby's will be back living with me. As soon as I find a place for all of us to live.
---
and Finally Remember:

"Ask and it will be given to you; seek and you will find; knock and the door will be opened to you. For everyone who asks receives; he who seeks finds; and to him who knocks, the door will be opened."
– Matthew 7:7-8
---
Oct 17, 17 09:08 AM

We strive to provide families, and their loved ones with real truth and guidance for treatment. Connection 2 Recovery is the number one trusted brand for

Oct 16, 17 09:14 AM

Many adults today who are in their 30's and 40's today are very familiar with the names Monica, Rachel, Phoebe, Ross, Joey and Chandler from the TV show

Oct 14, 17 08:32 AM

Drug Withdrawal can be both physical and psychological, because not all addictions are categorized as physical dependence. In general it can be nasty business.
---
Follow on Twitter or Google+
Search this Site:
/**/

---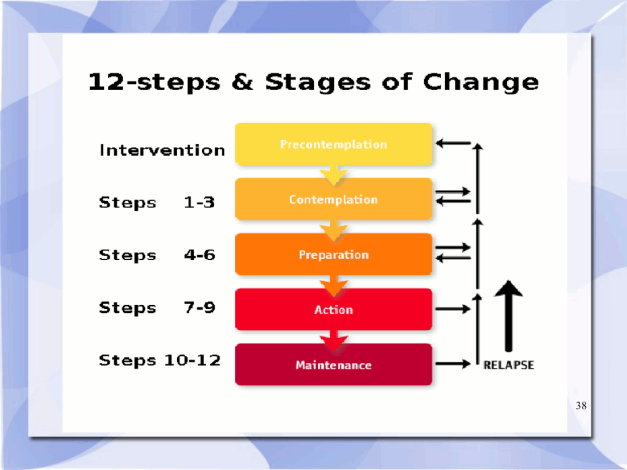 **  We're also launching four new
classes which will help you learn how to use motivation, affirmation
and encouragement to end addiction in yourself or a loved one. Each
class will focus on an evidence-based concept, explaining how to illicit positive
change
in yourself or in someone you love.
We will teach you practical techniques that
research has shown to be effective for achieving change and successfully ending addiction.
We'll begin offering these classes this September through Learn-It-Live (Learn-It-Live is easy to use teaching tool and you don't need to download anything to use it). Click Register Now! below to join one of our classes. The registration process includes setting up an account, but you determine your screen name to protect your confidentiality.
---
Four new addiction classes:

– Addiction 101, a FREE 60 minute course introducing key substance addiction recovery concepts. This seminar examines many aspects of drug addiction, including symptoms and treatment. It also introduces the Stages-of-Change as a building for recovery.  It will be held on Monday November, 6 at 6:00pm central-time.

– Intervention, introduces you to Change-Talk as an alternative to "tough-love". Change-Talk is a method, which you can learn, to get an addict (including yourself) to move away from addiction and toward recovery.  This is a 2-hour class that meets Thursday November 9, at 10:00 am central-time at a cost of
$10.

– Change-Talk, is a building-block for addiction recovery. This course
teaches you to recognize, listen to, and encourage Change-Talk in yourself and others.  Research has shown it helps lead to positive change. This is a 2-hour class on Thursday, October 13 at 10:00 am central-time, for a cost of $10.

– Effective Conversations, explains how to use conversation to connect for recovery. Reflective listening and change-focused conversations often facilitate positive change and addiction recovery. This is a 2-hour class that will meet on Thursday, October 19 at 10:00 am central-time, at a cost of $10.