Support for Addicts
    Get Help Now!  


  800.815.3910 


  Available 24/7   

The road to recovery starts here! Trusted, confidential help available 24/7. Speak with an addiction treatment specialist anytime. Please call us now at 800-815-3910!

---
Family Matters
This is a story about "Ron" and his alcoholism treatment that may help you understand your situation better:
Everybody
knew that "Ron" needed to get some help with his drinking. His routine
of having a couple of drinks with the boys after work began to include
several after dinner drinks as well.
The change in him was somewhat gradual, but over time everybody knew
something had to be done. Ron had missed meetings with his daughter's
teacher, and had not attended a soccer game or dance recital in months.
The
family got together for a meeting and everybody agreed that Ron needed
help, so they confronted him about it. His wife, his brother, his uncle
and his parents were involved. Ron agreed to their wishes and went into
an out-patient program at a local treatment center. The idea behind all
of this activity, of course, was to get Ron some help with his problem,
but what wasn't considered was the family getting help with their
problem. Alcoholism is a family problem and Ron's family, however well
intended they were, did not get help for themselves.
The thinking goes something like this—it's the alcoholic's problem,
so if he gets help everything is going to be all right. Ron went into
treatment to "dry out" and discovered during a physical exam that his
drinking had led to another health condition. More than the alcoholism,
his overall health was a concern and his entry into treatment served as a
wakeup call. The fog had lifted and he began to reflect on the missed
opportunities with his children. He was getting a new lease and he
wanted to take full advantage of that.
However, his wife never got
any help. Ron's parents noticed that she was a little "edgy" but the
important thing for them was Ron and his treatment. Her problems were
her problems. The brother and the uncle had a similar attitude. She was
no longer a part of the group that was trying to convince Ron to get
help, she was now isolated. She had lived with all of the drinking, all
of the missed appointments and she was the one who had to be the parent
while Ron was with his friends. Ron was working hard at his recovery and
could not understand why his wife wasn't overjoyed.
Ron was doing
everything he was supposed to do, but in her mind, he was always on the
verge of slipping and having a drink. When was the next shoe going to
fall? When he was drinking, she could call her in-laws and pour out her
feelings, but now that he was in recovery, all she was doing was
complaining. Ron's brother did understand, mainly because he was
skeptical about the whole alcoholism treatment program. He was the
change in Ron, but there were some lingering doubts. Mom and dad were
just happy Ron wasn't drinking, so that was the end of it. His uncle,
however, saw things the way they were and decided to call the treatment
center. Ron was doing fine, but what about the family?
The alcohol
rehab center suggested Al-Anon. Ron was getting the help he needed, and
Al-Anon was there for the family, so Ron's wife and uncle checked out a
local meeting. She was shocked at how many people had a similar, if not
nearly identical experience. The more questions she asked of the group
members, the more she wanted to explore her own participation. She
discovered that she needed to be in recovery too. She discovered that if
one member of the family struggles with alcoholism or addiction, it's
everybody's problem and they all need alcoholism treatment.
Drinking all of the time?
by Mary Ann
(Florida)
I just went to visit my son at his apartment in Miami and I realized he
is drinking all of the time and he won't stop. While I was there he
drank a gallon of Vodka and was drunk all of the time.
He also drives while he's drinking and I'm really afraid he is going to hurt himself or some else.
What
can I do for him, I never knew it was this bad. I live about 300 miles
away from him so I don't know what to do to help him?
Get Help For You First
by: Ned Wicker
Let's cut to the chase on this. Give Al-Anon a call and tell
them your story. They will have ideas for you. It's a great
organization.
You alone will not stop your son from drinking.
This is his problem, and he doesn't want to quit. Get the family
together and make sure everybody understands what is going on and agrees
to allow help to come in.
Alcoholism is a family disease.
While one may be doing the drinking, the entire family is impacted.
Your son will argue against any help. He does not think there is a
problem and you are wrong and he is right. Call your doctor and explain
to him/her what is going on, and ask how you can help. Don't do this
alone, you will only make it worse.
You can see by his behavior
that drinking is more important than his relationship with you.
Therefore, you and the family have work ahead. Get him into treatment.
Make those calls.
---
and Finally Remember:

"Ask and it will be given to you; seek and you will find; knock and the door will be opened to you. For everyone who asks receives; he who seeks finds; and to him who knocks, the door will be opened."
– Matthew 7:7-8
---
Sep 12, 17 01:08 PM

Codeine Abuse Symptoms outlines the signs of drug abuse and drug addiction so you can tell if it is aproblem in your situation.

Sep 11, 17 07:25 PM

Our Help Line holds a free weekly addiction support group Monday Night at 6:00 pm eastern time, where you'll learn how to help yourself or your loved one to end their addiction.

Sep 11, 17 09:19 AM

Addiction 101 is a course we offer that explains basic information about drug addiction and recovery for those trying to understand it and combat it.
---
Follow on Twitter or Google+
Search this Site:
/**/
---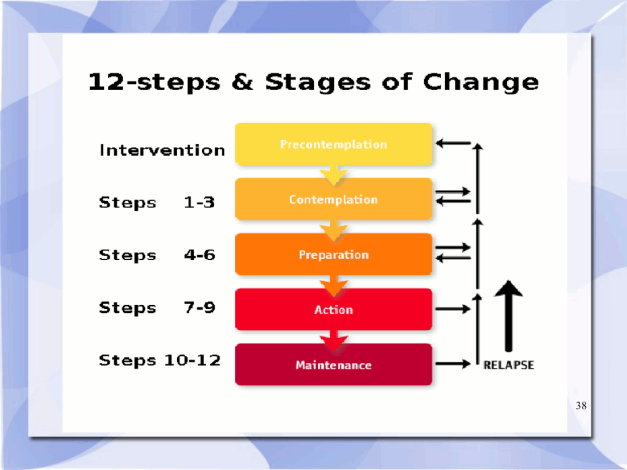 **  We're also launching four new
classes which will help you learn how to use motivation, affirmation
and encouragement to end addiction in yourself or a loved one. Each
class will focus on an evidence-based concept, explaining how to illicit positive
change
in yourself or in someone you love.
We will teach you practical techniques that
research has shown to be effective for achieving change and successfully ending addiction.
We'll begin offering these classes this September through Learn-It-Live (Learn-It-Live is easy to use teaching tool and you don't need to download anything to use it). Click Register Now! below to join one of our classes.
---
Four new addiction classes:

– Addiction 101, a FREE 60 minute course introducing key recovery concepts, starting September 12.

– Intervention, using detachment and change-talk as an alternative to "tough-love". This short-course will teach you how to use detachment and change-talk to move toward positive change and addiction recovery.  This is a 4-week, 60 minute class that meets each Wednesday beginning on October 3, at 6:00 pm central-time at a cost of
$29.

– Invention Fast Track, using detachment and change-talk as an
alternative to "tough-love". This is an accelerated short-course (only for those who grasp information quickly). It will teach you how to use
detachment and change-talk to move toward positive change and addiction
recovery.  This is a 1-evening, 4 hour class taught on Thursday, October 4, starting at 6:00pm central-time at a cost of
$29.

Intervention
Fast Track –
Register Now!


– Change-Talk, a building-block for addiction recovery. This course
teaches you to recognize and encourage Change-Talk, which research has shown leads to positive change. This is a 4-week, 60 minute class that meets each Wednesday beginning on Wednesday,
November 1 at 6:00 pm central-time, at a cost of $29.

– Effective Conversations, teaches how to use conversation to connect for recovery. Productive, change-focused conversations facilitate positive change and addiction recovery. This is a 4-week, 60
minute class that meets each Wednesday beginning on Wednesday, December 6 at 6:00 pm central-time, at a cost of $29.